10 Amazing Variations of Tic-Tac-Toe: From Classic to 3D!
In the world of board games, few can boast the same simplicity and fame as "Tic-Tac-Toe". This game, familiar to everyone from childhood, has an amazing ability to unite people of different ages and cultures. It's simple to learn, yet has deep strategic potential that can captivate for hours. In this article, we explore not only the classic version of the game but also a multitude of its variations, which can delight both players looking to spend a short break at work and those who enjoy longer matches.
1. Classic Tic-Tac-Toe
Classic Tic-Tac-Toe is a game for two participants (human-human or human-computer), where the first player uses "crosses" (X), and the second – "noughts" (O). The playing field is a 3x3 grid of cells.
Objective of the game: To be the first to place three of your symbols in a row horizontally, vertically, or diagonally.
Strategy: Based on the principles of attack and defense. Attack involves creating a winning line of three symbols, while defense focuses on blocking the opponent's moves, preventing them from forming a winning line.
Tactics: Involves controlling key cells. It is important to occupy the central cell, which is involved in the largest number of potential winning combinations. Another tactic is to place symbols in the corners to create multiple threats and opportunities for winning.
2. Tic-Tac-Toe for 3 and 4 Players
Variations for three and four players often involve an expanded playing field. In these versions players take turns placing their symbols, aiming to create a line of three (or more, depending on the field size) of their signs. Each player chooses a unique symbol (X, O, ▲, ◼, etc.). Players take turns making moves without skipping.
Objective: To form a row of three or more of your symbols depending on the size of the field before any of the opponents do.
Strategy: In games for 3 or 4 players, the key is to adapt to the moves of multiple opponents.
Tactics: Includes flexible response to the changing situation on the field, using all cells to create multiple threats, and strategic planning of moves to maximize your chances of winning, while minimizing the opportunities for opponents.
3. Gomoku
Gomoku is an East Asian board game that differs from the usual Tic-Tac-Toe with an expanded playing field and an increased number of chips needed for victory. It is played on a board of 15x15 or 19x19 cells.
Objective: To form a continuous row of five chips of the same type horizontally, vertically, or diagonally.
Strategy: Gomoku requires long-term planning and flexible response to the opponent's moves. It is important not only to aim to create your own row of five chips but also to prevent the opponent from doing so.
Tactics: Effective tactics include blocking strategically important positions of the opponent, creating multiple potential lines for victory, and using traps that force the opponent to play into your game.
4. Ultimate Tic-Tac-Toe Ultimate Tic-Tac-Toe represents a complex version of the classic game, where gameplay is conducted simultaneously on nine 3x3 fields, formed into one large 3x3 field. Each player's move on one of the small fields dictates in which sector the next player must make their move.
Objective: To achieve victory on three small fields arranged in a row, to win on the large field.
Strategy: It is important not only to aim for victory on each small field but also to strategically direct the opponent to those fields where they have fewer chances of winning. It is also necessary to avoid moves that can give the opponent an advantage on adjacent fields.
Tactics: Key tactics include controlling key sectors, especially the central one, and anticipating the moves of the opponent to minimize their chances of winning. Players need to focus not only on creating winning combinations but also on blocking potential winning lines of opponents on different small fields.
5. 3D Tic-Tac-Toe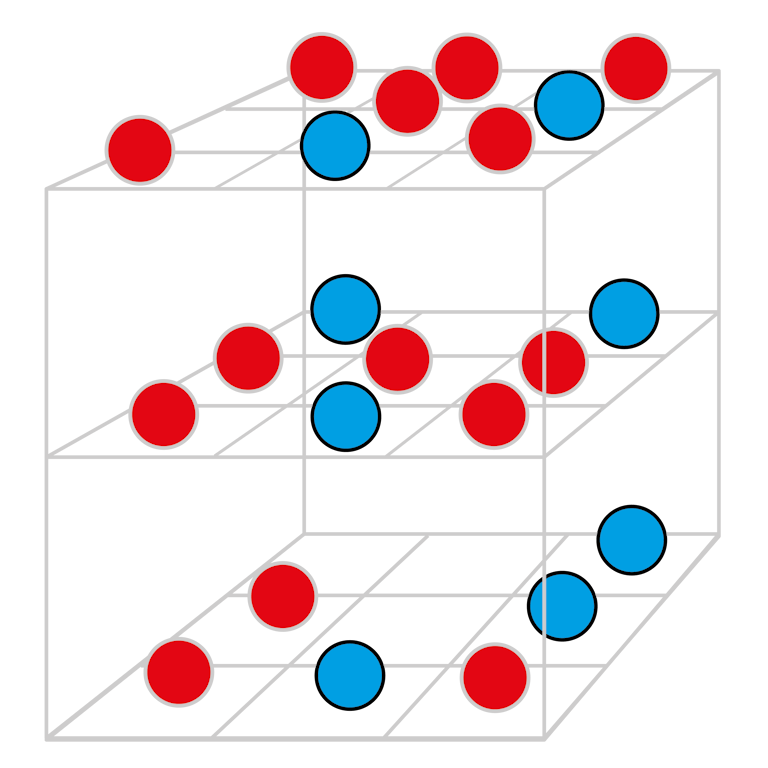 In the three-dimensional version of Tic-Tac-Toe, the game takes place on a cubic field measuring 3x3x3. This version transforms the traditional two-dimensional game, adding a third dimension and thereby increasing the complexity and depth of strategy.
Objective: To form a row of three symbols not only on planes but also in three-dimensional space, including vertical and diagonal lines passing through different levels of the cube.
Strategy: Requires developed spatial thinking and the ability to visualize combinations not only on one plane but also in three-dimensional space. Players need to assess the potential of each move not only in terms of immediate victory but also the ability to block or create multidimensional threats.
Tactics: Includes anticipating and blocking possible winning combinations of opponents, as well as using the corners and center of the cube to create multiple threats. An effective tactic can also involve making moves that provide many opportunities for victory in subsequent moves.
6. Tic-Tac-Toe on a Larger Field: 4 or 5 in a Row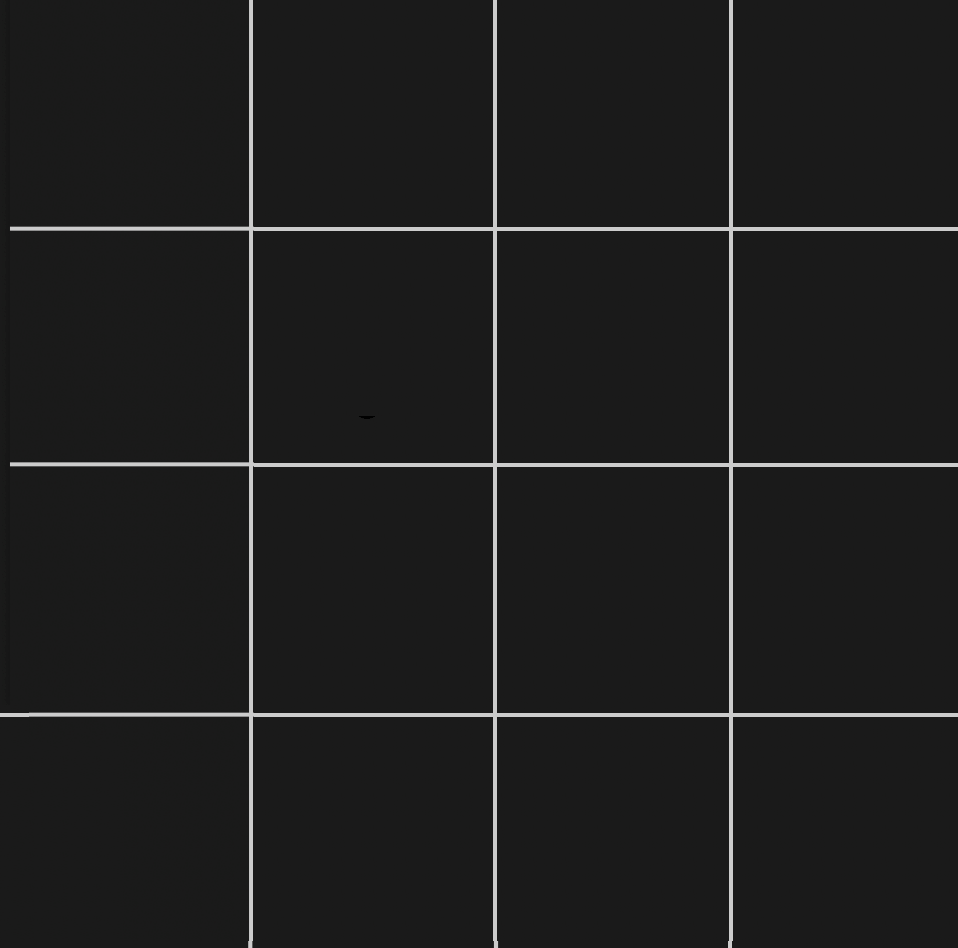 Tic-Tac-Toe boards of 4x4 size and larger transform the classic game by introducing new rules, objectives, strategies, and tactics.
4x4:
Objective: Form four identical symbols in a row.
Strategy: Controlling corners and the center becomes critical as they are involved in a greater number of potential winning lines.
Tactics: Preventing the opponent from creating sequences by early blocking.
5x5:
Objective: Often still four symbols in a row, but on a larger space.
Strategy: Requires deeper calculation of moves due to the increased number of possibilities for winning.
Tactics: Using additional lines to create several potential threats simultaneously.
6x6 and Larger:
Objective: Can vary between four and five symbols in a row, depending on specific rules.
Strategy: Focus on long-term strategic planning and adapting to opponents' moves.
Tactics: Creating complex combinations and "traps" that can lead to victory several moves after their placement.
7. Misere (Concession) Tic-Tac-Toe
Misere or "Concession" is an unusual variant of "Tic-Tac-Toe", where the main task of the players is not to win, but to avoid winning. This game is perfect for those looking for new challenges and ways to rethink traditional games.
Objective: Avoid forming a row of three of your symbols. The winner is the one who forces the opponent to create such a row, thereby "conceding" and losing the game.
Strategy: Players must carefully plan their moves, anticipate possible scenarios, and avoid creating two symbols in a row that could lead to a third and inevitable loss.
Tactics: One effective tactic is to create situations where the opponent is forced to make a move that leads to their loss. This includes blocking and forcing the opponent to act in an area where their next logical move will create a row of three symbols.
8. Wild Tic-Tac-Toe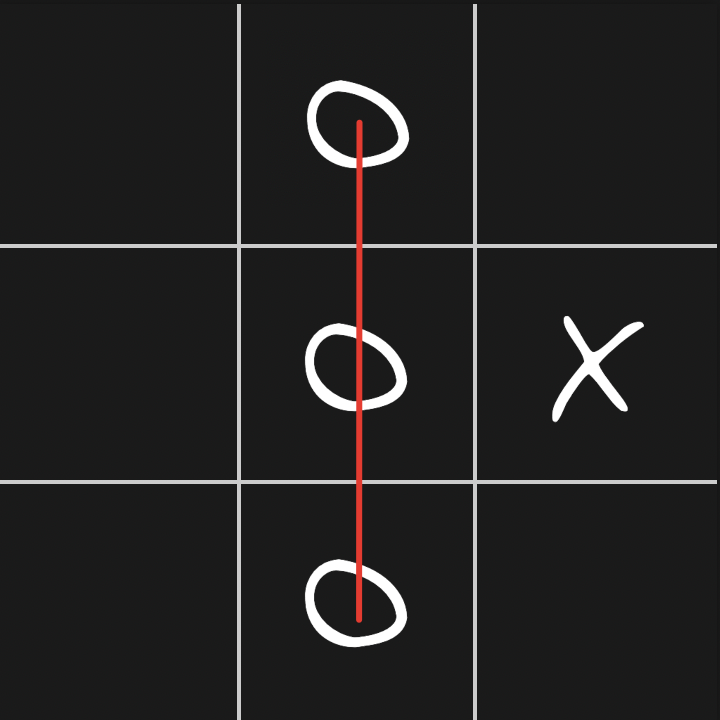 Wild Tic-Tac-Toe is a variation of the classic Tic-Tac-Toe game, distinguished by the flexibility in the choice of marks. In this version, players can choose to place either an X or an O on each move.
Objective: Achieve the standard winning combination by forming a line of three identical symbols (either X's or O's) in a row, either horizontally, vertically, or diagonally.
Strategy: Players must strategically decide whether to place an X or an O in each turn, considering both the opportunity to create a line of three for themselves and the potential to block their opponent's progress.
Tactics: The game requires careful consideration of each move, as the choice of symbol in each cell can significantly impact the course of the game.
9. Pyramid Tic-Tac-Toe

Pyramid Tic-Tac-Toe is a three-dimensional variant of the classic game with multiple levels of the field arranged in a pyramid shape.
Objective: Create a row of symbols that can pass through different levels of the pyramid.
Strategy: Take into account the multi-level structure of the field to form winning combinations.
Tactics: Block possible rows of the opponent crossing multiple levels, while simultaneously building one's potential winning lines.
10. Dara
Dara is a traditional African strategy game similar to Tic-Tac-Toe but with unique rules and objectives.
Objective: Place and align a certain number of pieces on the game board.
Strategy: Choose the optimal placement of pieces to prevent the opponent from forming rows and to create your own rows.
Tactics: Move pieces to block the opponent's moves and protect your own pieces from being "captured" by the opponent.
Conclusion
We encourage you not to stop there and continue exploring the world of "Tic-Tac-Toe". Play different variations, create your own rules, organize tournaments with friends, or compete in online championships. This accessible and exciting game with a rich history will surely bring a lot of positive emotions!